Internships abroad for young talents
TIGER supports CAP.
The aim of CAP. is to prepare young people for the challenges of working and economic life in the best possible way. TIGER actively supports this initiative and the young CAP.s and benefits from a variety of "capabilities" through contact with these motivated young people.
Details about CAP: cap-future.eu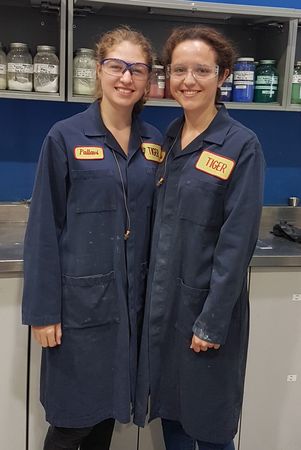 An adventure packed with fantastic moments
Lisa and Josef's impressions of Canada
Hospitality, entertaining chats, and excellent listeners: these are the things that come to mind when we look back on our wonderful stay in Canada. The staff members welcomed us into the team with open arms and explained everything to us patiently and with a great sense of humor. We had the opportunity to gather impressions in every department, from finance to production, and thus gained comprehensive insights into the structure of an international company. The sense of community does not stop when the working day is over: we were taken on excursions and given recommendations on the best way to spend the weekend as an intern in Canada. The Niagara Falls were especially memorable and we immediately fell in love with the "small" city of Toronto. We were also given the incredible opportunity of visiting the company premises in St. Charles, Illinois. This enabled us to gain new insights into internal communication and experience the company team spirit on the other side of the Canadian border. This adventure offered us a wealth of fantastic moments and we will always cherish our memories of that time.
Vibrant, exciting, foreign, and rewarding – these are the four words that best describe our overseas work experience…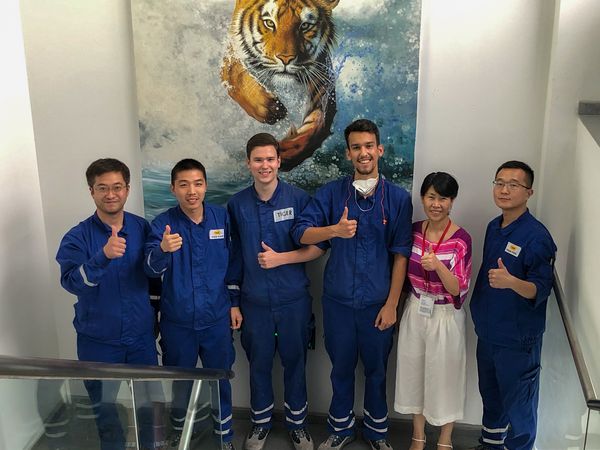 David and Gabriel's impressions of China
From the moment we stepped off the plane, we were aware that China had plenty of adventures in store for us. From busy streets dotted with neon signs, intriguing restaurants (with menus exclusively in Chinese) and extremely friendly, unfamiliar people to quiet, beautifully maintained parks, we were overwhelmed by thousands of new and interesting impressions during our very first days in Taicang. Our initial culture shock quickly gave way to a kind of fascination with everyday life, the many different customs, and the foreign culture of China.

On Monday, after having recovered from our jet lag over the course of the first weekend, we went to the TIGER factory in Taicang, where we were treated toan incredibly warm welcome by our new colleagues. Over the course of our internship, we acquired a lotof both theoretical and practical knowledge about powder coatings. We had the opportunity to gain plenty of practical experience, and our daily work was very varied, which made each new working day a very interesting one. Our leisure time was also packed with exciting experiences: on weekdays we went to traditional restaurants with some of our work colleagues, who very quickly became our friends, and thus were able to enjoy many different facets of Chinese cuisine. We often spent the weekends on excursions to nearby cities or points of interest with our colleagues, which was always a fantastic experience. After the internship, we took two weeks to explore the country on our own. We spent our twelve-day trip discovering the sights, exploring Beijing, Shanghai and other cities, and striking up rewarding friendships with some of the locals and other travelers. From the vibrant, busy city life in the metropolises to the breathtaking scenery around the Great Wall of China, there are thousands of wonderful impressions and experiences to remember.
We would like to thank TIGER for this exceptional opportunity to get to know the Chinese working world and the country in all its facets as part of our internship.
"Working at TIGER gave us the opportunity not only to explore Chinese culture but also to come into contact with everyday life and people."
"China was a unique experience. Each (working) day was shaped by exciting encounters, experiences, and challenges, enabling us to get to know new people and their culture."