Sustainability in action - Our vision of a green future 
TIGER has always been defined by its green gene. Forward-looking innovations are part of our DNA, and the development of distinctive milestones in our product range – environmentally friendly powder coatings, water-based digital inks and high-performance polymers for additive manufacturing (3D printing) – reflects our constant drive forward to a sustainable future for over 90 years.
Our closed-loop processes and resource-efficient use of energy and materials are consistently outlined in TIGER's environmental policy.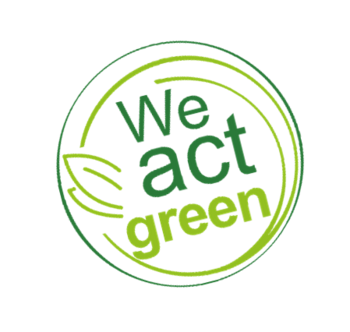 Our ambition to make a valuable contribution to the environment and to society includes an all-encompassing approach to sustainability – the European Green Deal is an integral part of what we do every day. TIGER has been balancing its material and energy flows since the mid-1990s. We apply our environmental policy consistently to develop recycling and resource-saving consumption of energy and materials.
In our Green Heritage approach, TIGER has already taken these actions at the Wels site:
Construction of energy-efficient green buildings
In-house 370 kWp PV system
Construction of e-charging stations
Cooling basin as heat source for heat pump
Industrial wastewater treatment system
Conversion to district heating
Our plans for the future:
Expanded raising of awareness of energy efficiency:

GREEN TIGER Award for green ideas from employees
Apprentice initiative on conservation of resources and environmental awareness
Information offensive on the UN's 17 Sustainable Development Goals
News about GREEN TIGER at internal events
Calculation of the carbon footprints of the menus at the TIGER bistro
Sustainable reduction in overall power consumption:

Expansion of the in-house PV system
Search for alternatives to our gas consumption
Optimization of the energy monitoring system
Mobility of the future:

Fewer long-haul flights
More job bicycles and carpooling options
Expanded charging station infrastructure
Gradual conversion of the TIGER fleet to electric vehicles
Would you like to find out more?
The TIGER Sustainability Report​​​​​​​ offers further information on corporate responsibility at TIGER.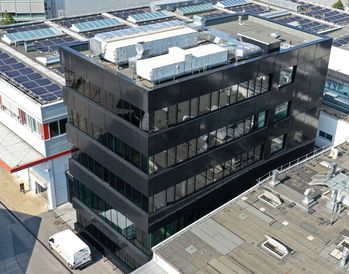 Green Buildings
We save energy to make sure we never run out
TIGER's contributions to protecting the climate include constantly reducing our energy requirements, using energy as efficiently as possible, and giving preference to renewable energy sources such as solar power and photovoltaics.
Our energy management system analyzes all of our company's energy flows and helps us optimize our energy consumption. We achieve this by implementing both simple measures, such as converting our facilities to LED lighting with intelligent control, and complex projects, such as using groundwater for cooling and – conversely – using waste heat from our machines for heating and hot water.
One example:
The Gemba Support Center (GSC), an office building built at the Wels site in 2018, has underfloor heating powered by a water-to-water heat pump. The heat source is the cooling basin of the TIGER powder coating production facilities.
The consistently high temperature levels in this basin (19 °C) enable us to achieve a coefficient of performance (COP) of over 6. In comparison, conventional heat pumps achieve a COP of around 4, which means that four units of heat are generated for every unit of energy.
TIGER uses this technology to heat the entire four-story GSC and saves approximately 125,000 kWh per year in heating and 135,000 kWh in cooling. The project was co-financed by the European Regional Development Fund. More information can be found at www.efre.gv.at​​​​​​​.
Further information on TIGER's energy efficiency activities may be found in a case study published by the OÖ Energiesparverband (Upper Austrian Energy Saving Association).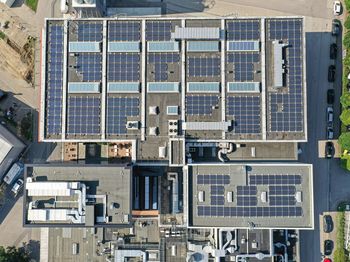 Powder coating is the greenest and most effective coating technology currently available to the industry. Solvent-free baking enamels are processed in a multi-stage production process into a fine powder coating that is applied using an electrostatic spray device and then melted and chemically bonded in the subsequent curing process at temperatures of 150 to 200 °C.
The success story of powder coating in industrial surface finishing started in the 1960s, has been subject to constant innovations since then and continues to impress its users today with numerous advantages:
Protection and decoration
Almost 100% material utilization
High mechanical properties
Easy and clean to work with
Can be used on numerous substrates
Sustainability impacts on all the research and development activities at the modern TIGER R&D Center.
Our current research focus is on:
Reducing the film thickness
Maximizing the lifespan of the coating
Developing solar reflective coatings to reduce building temperatures
Enabling the product´s reuse (recycling)
Searching for substitute materials for CMR components (CMR = carcinogenic, mutagenic, and reprotoxic)
Using bio-based raw materials