New 22lb (10kg) Box Sizes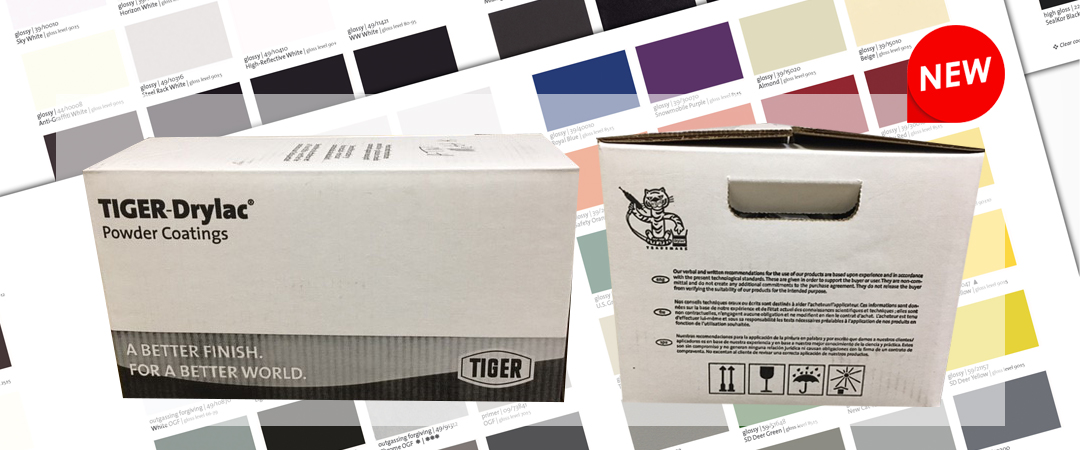 TIGER Drylac Canada announces 22lb (10kg) box sizes!
TIGER Drylac is roaring into 2021 with new products, new packaging, and new digital tools. Effective immediately, we have a new ordering option for you – most stock products available from TIGER Drylac Canada may be ordered in 22lb (10kg) box sizes. This is in addition to the current 44lb (20kg) full boxes and 5lb (2.5kg) mini-packs. Note: TIGER Clears are packaged in 33lb (15kg) boxes.​​​​​​​
Reminder, TIGER Drylac has named our 3D Metallic Deore 3606 Colour of the Year!
NEW PRODUCTS
3D Metallic colors (17 new Fine Texture products now available)
New Weathered Steel Super Durable colours (Coming Soon)
NEW PACKAGING
44lb (20kg) boxes to replace 25kg boxes (in process)
22lb (10kg) box sizes (Canada) NOW AVAILABLE!
TIGER Clears are packaged in 33lb (15kg) boxes
NEW DIGITAL TOOLS
Social Media (now on Pinterest & Twitter)
Color Selector (Coming Soon)
Web Shop (Coming Soon)
Website refresh (in process)