NEW TIGER Drylac Flip/Flop Powder Coatings
NEW FLIP-FLOP COLORS
Metallic Powder Coating with Color-Changing Effects
[July 30, 2021] TIGER Drylac announces two (2) new color additions to our Metallics product line. TIGER Drylac Flip-Flop Metallics change colors in different lighting conditions and at different angles. This amazing technology provides brilliant sparking metallic effects in weather resistant, super durable powder coating. They are formulated in TIGER Drylac Series 59 chemistry for a long-lasting colour shift effect.
Key features of Flip-Flop Metallics are:
2 metallic colours (Sunrise Black and Tropical Red)
High brilliance and bright colour-changing effects
Looks best on curvaceous surfaces, exposed to sunlight
For best effects, spray over black, but works with any base color
Use glossy or matte Clear topcoat
Excellent batch-to-batch consistency
Smooth application (little to no rework required)
Smooth Texture
Flip-Flop products have several color changing aspects, but photography tends to capture only a few of them.
Flip-Flop Metallic products are now in stock at TIGER Drylac USA and may be ordered by any TIGER location across North America.
59/83231 Sunrise Black Metallic
59/33453 Tropical Red Metallic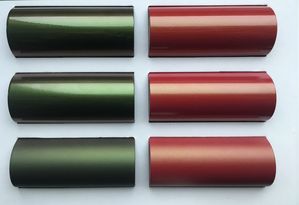 Looking for more information on these exciting new products from TIGER Drylac?
Order Samples​​​​​​​​​​​​​​
Call your TIGER North America Order Desk at 1 (800) 243-8148, or
Contact your TIGER Territory Sales Representative
About TIGER Drylac North America
TIGER Drylac is the North American operating division of TIGER Coatings GmbH & Co KG in Wels, Austria. TIGER Drylac powder coating manufacturing facilities are located in the US, Canada and Mexico and an extensive distribution network allows TIGER to lead the industry in stock powder coating products and service. TIGER Drylac serves various market segments including Architecture, Automotive, Job Shops, General Industry, Agricultural & Construction Equipment, Aerospace & Defense and Furniture manufacturing. TIGER continues to drive innovation and offers TIGITAL thermoset materials for SLS 3D printing, TIGITAL digital inks and TIGITAL Tattoo powder coat products. For additional information, please contact us at www.tiger-coatings.com.