Powder Coating Chemistries and Chemical Agent Resistant Coatings MIL-PRF-32348
At the Ready!
For many years' liquid coatings have dominated the CARC market. However, through innovation and development, TIGER now offers chemical agent resistant formulations. As a provider, TIGER is required to have every product tested to military standards and be approved. TIGER powder coatings are now listed on the Qualified Product List (QPL). If your company is providing powder coating services for a MIL spec application, it is required that only approve products are used when a qualified products list for that specification has been published.
Powder coatings come in many different chemistries. Powder coating services for military applications have specific requirements that need to be met. This blog is designed to help explain Chemical Agent Resistant Coating (CARC) process and specification of MIL-DLT-53072 / MIL-PRF-32348.
The MIL-DTL-53072 is the detail specification for the entire CARC process
MIL-PRF-32348 is uniquely written to specify powder coating technologies and their required performance
In the chart below you will find the details of the CARC coating system, including each process for coating parts; Cleaning – Pretreatment- Priming- Top coating. According to MIL-DTL-53072 specification, contractors can select the appropriate coating system based upon the material substrate. As an example, when coating an aluminum alloy, a coater would be free to propose the following process for approval by the contracting engineer; Cleaning- TT-C-490 / Pretreatment- MIL-DTL-5541 / Priming- MIL-PRF-32348/ Topcoat- MIL-DTL-53039.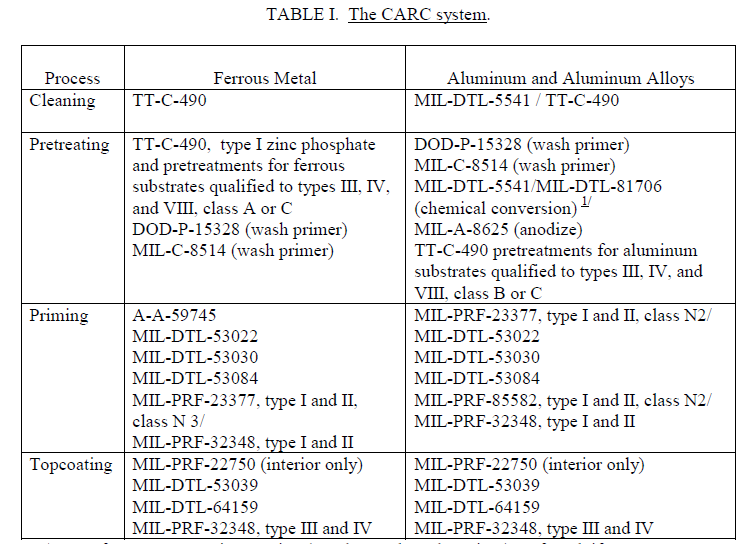 MIL DTL 53072 may seem daunting but it is actually straight forward. It allows contractors to select a coating system to best meet their requirement for a coating project. Subcontractors can select methods as they best fit their manufacturing requirements.
Substrate dependent:
Cleaning
Pretreatment Chemistries
Priming types
Top Coating
Powder coating and liquid applications can be combined as outlined within the specification, provided they select qualified products located within the Qualified Products List (QPL) for each associated specification.
Liquid or Powder coating primer can be selected based upon requirements.
Includes epoxy coatings:
Metal rich options
E coating alternatives
Powder coating and liquid coating
The topcoat in liquid or powder coating technologies are optional provided the coating combinations are compatible.
We hope this brief overview of CARC coatings according to the MIL DLT 53072 specification gives some clarification when proposing CARC powder coatings (MIL-PRF-32348) as a coating method. We believe this information will make it easier for subcontractors (powder coaters) to work with the contracting engineers to select a cost effective and efficient method for coating parts based upon TABLE I from MIL DTL 53072. TIGER is at the ready to supply the military market with our line of CARC approved products. Are you ready to join us?