The owner recounts: Five anecdotes by Kurt Berghofer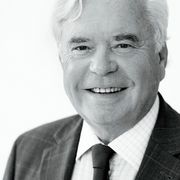 The family that Julius and Anna Berghofer started was a large one: six boys, five girls. Most of them followed in their father's footsteps and learned the painter's trade. The girls too. "Even as an old woman, my Aunt Klara could paint a door so smoothly and perfectly that you could use it as a mirror for shaving yourself," remembers Kurt Berghofer. "She was the first female master painter in the area." But getting there took quite a while, for there were still eleven children sitting around the dining table; the task was feeding them, raising them, and making them independent.
The economic basis for all of this was a small painting company, which Julius Berghofer, born in 1875, founded at the age of 25 in the small town of Gmünd in Lower Austria. His daily work in the early days revolved around handicraft. The head of the family sanded and primed windows, painted kitchen furniture, painted walls, in brief: he beautified the houses in the town. People who wanted something special also decorated the "public" rooms of the house. Template patterns were in fashion. In several steps, with up to twelve individually-mixed colors, artful wall patterns were created in well-heeled apartments. Paper templates cut by hand were laid one atop another, their cut-outs and edges were painted patiently until finally the entire living area, the entire dining room and bedroom glowed with their designs: fantastic ornaments, abundant bouquets of flowers, floral designs wherever the eye could see. And this for the pleasure of the guests invited later on.
Here, however, the focus was on one thing: the wall pattern had to be unique. Like a custom-tailored dress, it adorned the lady of the house. Anything else would have been a social faux pas. It was a sign of the good taste of Julius Berghofer that when his work was done, he tore up the artfully cut paper templates – as an expression of their uniqueness. Right in front of the customer's eyes. For it was always the lady of the house who had the last word on the wall decor. Luckily. For this is how the artistic talent with which Julius Berghofer was endowed could be fully expressed: "'My lady, I will design an individual pattern for you,' is what my grandfather said to a new customer," explains Kurt Berghofer. This was a "pattern" that was well-received. It didn't take long until Julius Berghofer had made a name for himself. And he seized the opportunity. He didn't get rich, but he earned good money, thus keeping his flock of children well cared for. In the process, a small family-owned company was growing.
Three of the eleven children followed their father into the business: Gustav (born in 1906), Johann (1909), and Theodor (1912), the youngest of the eleven siblings. After their apprenticeship, they moved back to Stelzhammerstraße 12, to Wels in Upper Austria, where the painting company and the family had moved in 1924. And the sons brought something new to their handiwork: production. Previously, Julius Berghofer had purchased his painting materials, such as white chalk-color, which he colored with dry colors according to customers' desires. Now, in addition to dry colors, his sons also began to produce oil colors, putty, and dilutions themselves. Naturally their father had many years' experience with raw materials, their qualities and properties, so one thing led to another.
Things happened slowly at first, for handiwork still mattered. Electrically-powered mills for producing oil colors were not yet affordable, so the brothers powered the production with their muscle power. Linseed oil, pigments, and dry materials formed the essential components of oil paints. "At the time, lead and cadmium combinations were still created, they provided very good coverage. Today, however, people know how poisonous they are," explains Kurt Berghofer.
Using simple recipes, the brothers created products that their own painting company could use, but which could also be sold. "We cannot trace how much the brothers were able to produce in a day. However, it could only have been a few kilograms," suspects Kurt Berghofer, "for the work was so difficult that they had to switch off every hour." A small building next to the painters' workshop served as a sales office, which sold the company's colors and other painting supplies as well. This was a source of extra income that the father had started, but which really got rolling with the company's own product line, especially starting in 1929 when Theodor, the third brother, joined his father's company. As the baby of the family, he was the only one who had attended a trade school and who was allowed to work for a wholesale company.
In 1930, product sales moved from the workshop to a separate color company, operated by Gustav and Theodor Berghofer. Thus, 1930 was the year in which a company was established, the one that would soon be called TIGER. Throughout their lives, the two brothers worked together – and expanded their business idea by idea. This is not to say that the third brother, Johann, remained idle. In 1934 he founded his own company in Tyrol; more about this later.
Theodor, the youngest of the Berghofer siblings, recognized his father's talent: artwork. Designing and the artistic implementation of his ideas were his strength, just not in the painters' workshop. Even after closing time, he devoted himself to colors, then on canvases, on which he painted beautiful pictures. The sons' new production and sales ideas were good, but their father stuck with what he knew, especially his template patterns. And this was good, for Theodor Berghofer knew how to use them for the business. His method: a trip abroad. He had heard about the Hanover Messe, at the time the largest universal trade show in Europe, which presented technical innovations of all kinds. The son traveled there for the first time at the beginning of the 1930s in order to examine and purchase an electric paper-cutting machine. It could produce up to 20 templates in a single run. A new pattern designed by his father could now be multiplied easily, and with these, the company's customer base. This gave the son another idea: effective immediately, the right of exclusivity to the template pattern should apply in the town. Practically, this meant that he could sell his father's patterns to non-resident painting companies and at the same time, keep putting the patterns on the wall in Wels, like before.
This was a wonderful sales idea that allowed the locally-oriented customers entry to an exclusive club, yet at the same time opened up an entirely new business. However, there was one obstacle: his own father. He saw that his designs were well-loved everywhere, but he found "modifying" his right of exclusivity difficult. "So help was required from a third party. Only with their mother's support could the father finally be persuaded," according to Kurt Berghofer. From the pen of the father and the cutting machine of the son, there now came a whole collection of wall patterns, which were put on the market with a selection of colors produced in-house. This "putting on the market" moved quite quickly, for Theodor Berghofer was soon so successful that he bought himself a motorcycle with sidecar. With sidecar. That was something! Typically, in the 1930s tradespeople traveled by public transportation. This was time-consuming. But not Theodor Berghofer: with his new wheels, he sped all over Austria, from town to town, in order to excite each and every painting company he visited about his exclusive template patterns. And he always had the current collection in the sidecar.
Now that he had a taste of adventure, Theodor Berghofer followed his innovative spirit and traveled to Hanover again. And soon he came home with something else new: a plastic injection-molding machine. And it too multiplied his father's beautiful sketches. At the time, there was a cost-effective alternative for painting the walls with template patterns: paint rolling. Patterns were cut out of rubber plates and glued around a roller that was approximately 25 cm long and 5 cm thick. Spread with paint, they rolled the new wall designs into people's living spaces line by line. Or in a narrower width, they created decorative borders, which were also all the rage.
The plastic injection-molding machine produced as many copies as desired from an original model. With a wood core and two pins on the sides, the finished rollers only had to be hooked into a device featuring another color roller and the pattern could be put on the wall. As compared to the usual vulcanizing technology, injection molding was an extremely cost-efficient means of production that promised great profits and was able to conquer the entire Austrian market within two years, for this production "miracle" spit out a new roller body every thirty seconds, by day and also by night.
When Julius Berghofer, the head of the family and its artistic heart, died in 1938, everybody could see: his life's work, his flock of children, his family-owned company had "grown up."
Powerful TIGER, powerful brand
In the 1940s, with the end of the Second World War, business really picked up. The painters' workshop and handiwork were things of the past. Now the brothers concentrated entirely on production – and on private individuals who made purchases at the paint store. This resulted in large roller models for painters' workshops and small ones for end customers. The Berghofers had plenty of imagination when it came to how to address their audience appropriately. Colorful posters showed the patterns after application and inspired people to do it themselves. Every two years there was an entirely new collection, featuring approximately 150 stylish models. The many rollers enhanced a whole line of colors, which consisted of pre-colored, ready-to-use lime colors and later dispersion colors. The motto was quick and easy, and thus productive! Laypeople were even able to create true beauty on their walls with just a little effort. As the home improvement craze of the future was born, the brothers opened their own paint store in Wels, which remained open until the 1980s.
And early on, the Berghofers laid another cornerstone for consumer business – and for the profit-rich future of do-it-yourself (DIY): TIGER, a brand that was suited for unmistakable marketing. At the beginning of the 1930s, the brothers were seeking a good name for their products. The family name Berghofer did not seem right; it had to be something short and snappy. The familiar "Büffel [Buffalo] wax" that was used to maintain floors at the time provided the impulse for TIGER: a powerful, beautiful animal that was easy to visualize and easy to remember. That was it! The Berghofers decided, and in 1934 applied for trademark protection in Austria; over the years, they obtained protection around the world. "At the time, nobody was thinking that the name would also work so well internationally," explains Kurt Berghofer, who can only rejoice in this piece of good fortune.
Furthermore, the third brother, Johann Berghofer, who initially joined his brothers in their parents' business and moved to Tyrol after his marriage in 1934, was also inspired by the animal kingdom. He called his wood paint and wood protection products "Eagle"; his son Günther Berghofer and both of his daughters still maintain a successful production operation in Schwaz.
Over the years, TIGER's product line expanded more and more. Early on, the brother decided to create a complete color and paint program. At the end of the war, this plan became reality: in 1946, a production hall was built at Kienzlstraße 12 in Wels. The first artificial resin paint followed in 1949. It had the decisive advantage that it dried much faster than oil paint. This made life easier for end customers, who wanted to see quick results. It was the perfect addition to the Berghofers' product line: quick, easy, and thus productive.
New and improved raw materials were put on the market and enabled further innovations: artificial resin paint, rust-protection paints, sealants, concrete coatings, wood protection and dispersion paints. The result was a complete modern program of colors and paints, custom-tailored to the end consumer. While Gustav Berghofer took care of production, the communicative and charismatic Theodor took it upon himself to find new sales channels. Here he started with an important observation: in addition to retail paint stores, where the shelves were dominated by a few top dogs, other retailers sold paint in the countryside; drugstores and hardware stores, for example. And he focused on these. This was an idea that paid off. Always equipped with a healthy sense of good marketing, he brought the new goods to the people. The approach was right, production increased, the TIGER brand made its presence known. Soon, the retail paint trade approached the high-growth paint production business. With the do-it-yourself movement, home improvement stores emerged in the 1970s; these changed the market completely. However, for a well-established brand like TIGER, this only opened up new possibilities.
Family and friendship ties to powder coatings
Despite all of these developments, one thing stayed the same: TIGER was still a family-owned company. Until Gustav's early death in 1959, the brothers worked hand-in-hand. Both had their own families, from which a new son soon emerged: Kurt Berghofer, one of the two sons of Theodor and Irmgard Berghofer. "My father was a real family man. At home he talked a lot about the company and the new things he was planning," he remembers. "This interested me even as a child. I already knew that I wanted to be a 'Tiger' someday." Someday came in 1962. When the then 19-year-old joined the company, he had spent a few years in Vienna, where he had attended the Höhere Technische Lehranstalt für Chemie [Secondary Technical College for Chemistry]. And he brought something with him: a friendship that would change the company history once again.
"My father wanted me to go to Vienna as a young man. I agreed, but only if I did not have to live in a dormitory but could have my own room," explains Kurt Berghofer. The plan proceeded and 14-year-old Kurt moved to Vienna as a boarder. However, he soon shared his room with a comrade who also came from Upper Austria: Gerald Hemedinger. They lived together for three years, which bound them for life.
In 1967, when Gerald Hemedinger already had a management position at the German Chemische Werke Witten, he told his close friend Kurt about a completely new development project: powdered coatings. "I was enthusiastic from the get-go," remembers Kurt Berghofer about the subsequent telephone conversation, "and so was Robert Strouhal, our general manager and an exceptionally talented paint technician at our company." Quickly the two figured out how to investigate the topic of powdered coatings. They took 15 trips to Holland, Belgium, Germany, and Switzerland, where they studied the technology and the market at large raw material suppliers, paint factories, makers of production machines, and spray system companies. Within a few years they equipped themselves to start with the new powder coating: with a completely new product that was not aimed at the TIGER-typical DIY market, but only at industry. Until 1967, 95% of TIGER's products were provided to end customers as liquid paint. In addition to the technological innovation, the son also turned to entirely new sales channels.
And what did the father have to say about this expansion course? "He was always open to technical innovations, he liked the idea," remembers Kurt Berghofer, who had become part of the company management at the age of 24. "But people we trusted in the paint business warned him that this project was too big for us." And it was true: the project was very big. The planned investments amounted to approximately one and a half million Austrian Schilling (approximately EUR 110,000). This was a lot considering that at the time, annual sales were around 40 million Schilling (EUR 3 million), earned by the approximately 40 employees.
And yet father and son dared to implement the new business idea. In 1968 TIGER invested in the new technology and installed its first small system with laboratory and test bench, where it was possible to develop and produce simultaneously. A longtime employee was interested in working the additional shift, from 5 PM to 1 AM. "Grandma," as she was lovingly called, produced approximately ten kilograms of powder coating each hour with the new system. Despite the small quantity, she successfully managed to fill the first large orders for 1000 kilograms, packaged in plastic bags of 25 kilograms apiece; these were put in a box. The initial investment, which had increased to two million Schilling, paid off within three years, so that the first production system exclusively for powder coatings soon followed. And with it, the first exports abroad.
"You can only penetrate markets with true innovations," explains Kurt Berghofer about his recipe for success. The innovative "TIGER Drylac Powder Coating" was absolutely new. And its product properties spoke for themselves: easy and quick processing, nearly 100% material exploitation, cost advantages, and it was environmentally-friendly too. All of these were characteristics that made the typical solvent-based enamels look old. And it still fit with the Berghofers' product motto: quick, easy, and thus productive. Furthermore, it was also very clean. With the environmental protection movement, which came a bit later, came a product benefit that would carry on into the future. The friendship between Gerald Hemedinger and TIGER will also carry on into the future. He, his technology and product ideas are still a great help to the company.