Low-cure powder coatings as an energy-efficient alternative
More powder coating - Less power consumption
The prices for oil, gas and electricity are currently reaching record levels, putting the discussion around saving energy in a new light: in private households as well as in industry, because low energy consumption offers not only ecological aspects but above all economic advantages for companies.
The good news is that also in powder coating savings can be made! For this reason, energy-efficient low cure powder coatings are increasingly gaining acceptance alongside classic powder coatings, which are usually cured at approx. 180 to 200 °C.
As the name suggests, low cure powders require a significantly lower object temperature for coating. Depending on the design, as little as 140 °C may be sufficient. Alternatively, the curing time is shortened if the standard temperatures are used.
Good for the environment and good for the budget
Their properties allow low-cure powder coatings to significantly improve manufacturing processes in terms of sustainability and productivity. Lower temperatures in the curing oven mean less oil, gas and/or electricity consumption. This also reduces CO2 emissions, which are known to contribute to global warming. The user, in turn, benefits from accelerated turnaround times as objects reach the desired temperature faster.

Comparison of curing conditions
The graph below shows the time and temperature range in which low-cure powders can/should be baked.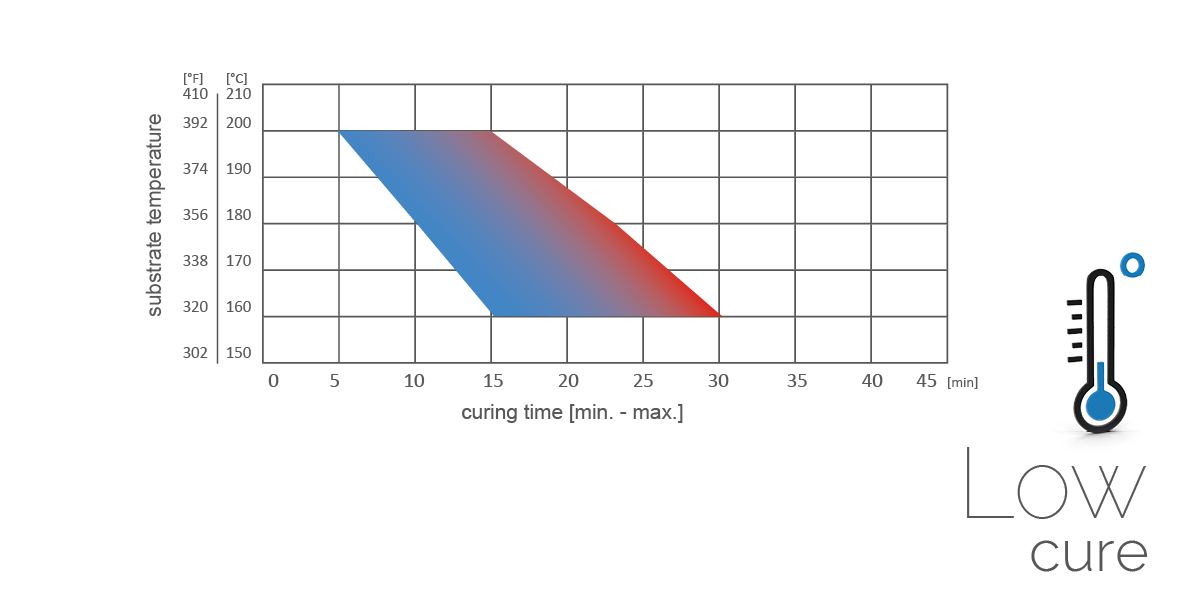 In comparison, the next diagram shows the recommended baking conditions for regular powder coatings and illustrates how much the products differ in terms of curing temperature and time.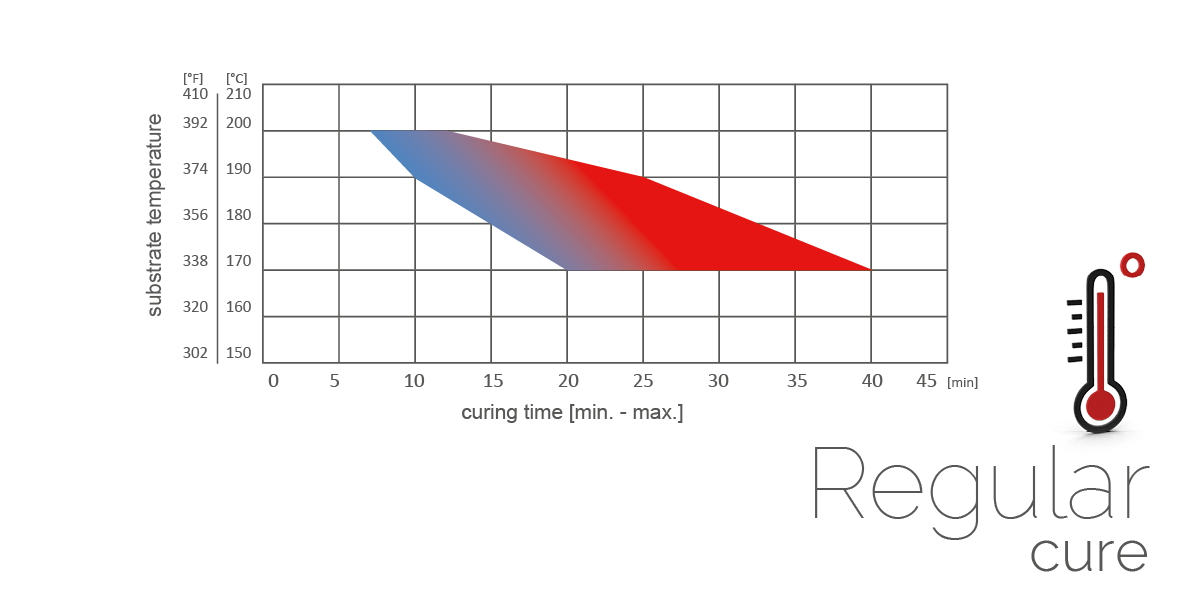 Areas of application for low-temperature cure powder coatings
Efficient coating of massive components is only possible to a limited extent at high stoving temperatures above 180 °C. Low temperature cure powders make it possible to finish even these complex surfaces economically and sustainably.
This is particularly relevant for the following industries:
Industrial applications:
garden fences
machine parts
steel structures
forklifts
etc.
Agricultural & construction machinery:
tractors
forestry equipment
earth-moving machinery
snowplows
etc.
TIGER Low-Temperature Powders

Exterior application:
TIGER Drylac® Series 40
Selected products from this series can be formulated both with low temperature properties as well as with outgassing-forgiving properties. This results in a targeted reduction of surface finishing damage when coating galvanized parts, cast parts and base steel alloys.
TIGER Drylac® Series 59
This series offers a weather resistant low temperature clear coat for decorative finishing of sports and camping equipment as well as garden furniture, in addition to other exterior applications (except for facade and window elements).
TIGER Drylac® Series 280/281
These low temperature powder coatings are available in both, a durable (Series 280) and a super durable (Series 281) quality. Optimized edge protection, high levels of corrosion resistance and excellent mechanical properties as well as a smooth flow make these product lines especially suited for all types of exterior equipment.
Interior application:
TIGER Drylac® Series 89
This tried-and-tested hybrid solution for use in exhibition construction, machine building and shopfitting is based upon a polyester and epoxy resin blend. The low temperature curing window helps to reduce the CO2 footprint.
Primer:
TIGER Drylac® Series 271
This high-quality TIGER-SHIELD two-coat system provides long lasting corrosion protection for steel and galvanized steel substrates. TIGER Drylac® Series 271 is an ideal primer for low-temperature coatings.