Tips & Tricks for Automotive Trim Applications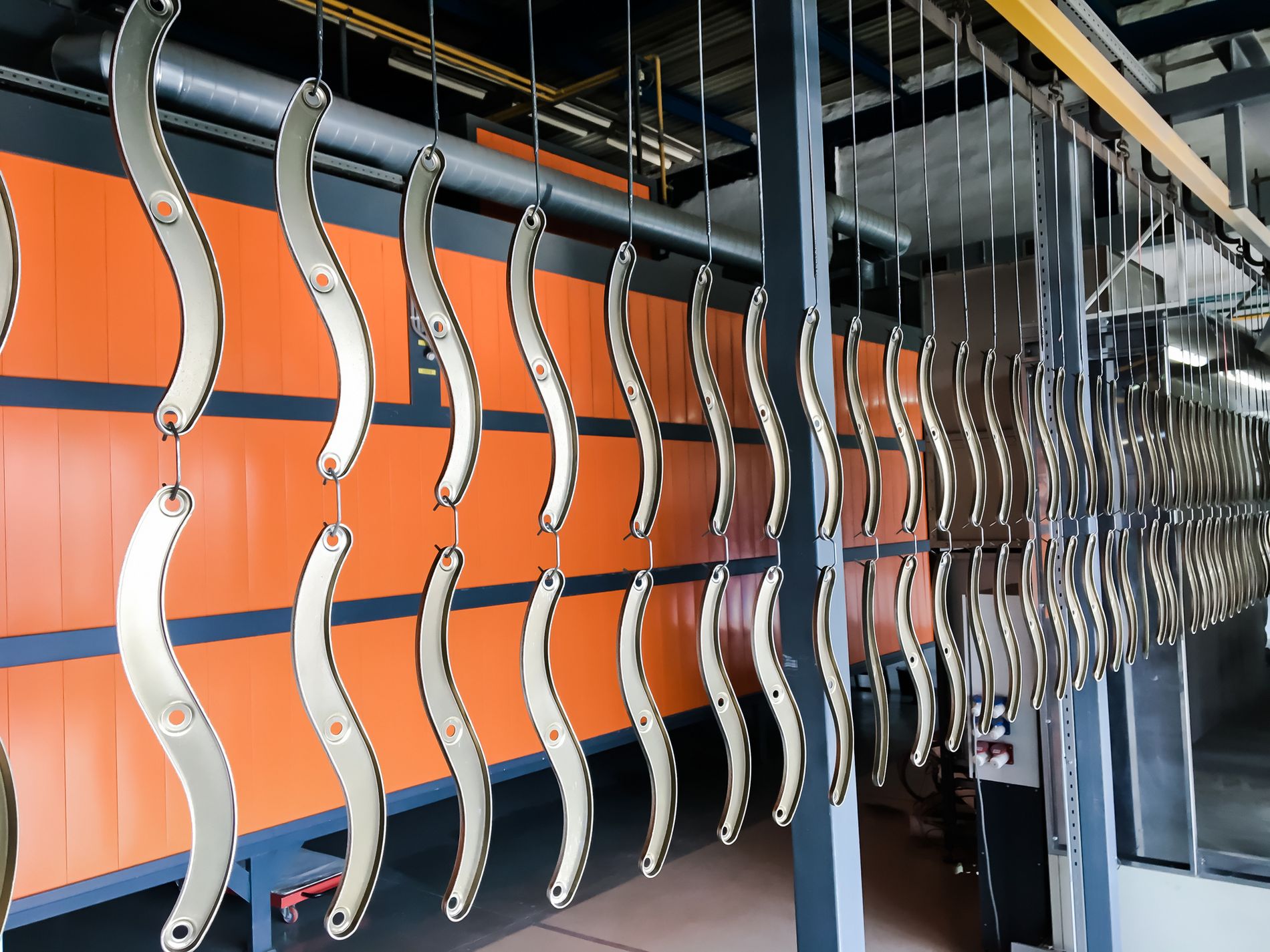 Applying powder coatings to automotive trim pieces (especially roof racks and running boards) can be a difficult task at times. Therefore, we wanted to outline some tips and tricks that powder coaters may find helpful during the application process.
Why are trim parts more difficult than others?
Automotive trim typically requires a "class A" automotive finish. For example, designers install roof racks at eye level. The parts require a super smooth surface with no visible defects.
Trim pieces are long (up to 108") and have complex geometries. This makes it tricky to build uniform film thickness from top to bottom. Operators need to make sure that parts do not swing into each other during the application process.
These pieces require excellent application skills to achieve a high quality surface finish. Roof racks need to withstand tough conditions: intense UV exposure, corrosive salts, windshield washing agents and other chemicals around the vehicle.
As with any powder coating job, proper pretreatment is critical:
Proper adjustments to washer nozzles to ensure proper PSI in each stage
RO or DI halo after final rinse stages
Clean, "water break free" surface on parts
Adequate dry off stage to eliminate trapped moisture ​​​​​​​
It is important to eliminate external contamination on the parts:
Install a cover or tray above parts (on a conveyor system) to eliminate dirt, dust and grease
Add de-ionizing bars to release dust particles right before the spray booth
Clean hooks to ensure a proper ground for complete proper powder coverage, especially at the hanging points
In a vertical line, it is possible to get film thickness variation. Powder has a natural tendency to fall downwards (gravity). Therefore, the spray guns on the top usually have a higher output. The spray guns on the bottom have a lower output and some system adjustments may be needed to create a uniform film thickness on the part.
In a horizontal line, it is important to maintain proper gun to part distance (usually six to ten inches apart).
Ensure proper ground
Use a fluidizing hopper instead of a box feeder gun to ensure consistent film builds
Verify airflow velocity in dry off and cure ovens to prevent parts from swinging into each other, especially through conveyor turns
Use weep holes to push water from inside tubing
Follow correct line density for an efficient process flow
Use spray guns on front and back to ensure better powder wrap-around (improved edge coverage)
When all is said and done, powder coating automotive trim parts are a rewarding business, but demanding as well. "Class A" automotive quality is achieved with the best process, the best powder and the best application techniques. Remember to consult your TIGER Drylac Technical Representative with any requirements for information or advice – we are here to help!
Dan Bloden
TIGER Drylac
Automotive Team