TIGER know-how for agriculture
Agriculture: an economical sector between tradition and innovation
The agricultural industry is one of the oldest sectors of the economy. Its goal: the extraction of plant and animal products from the cultivated land. This approach is called primary production - obtaining products from nature.
Today, about one-third of the earth's surface area is used for agriculture and forestry. Technological progress is also advancing in the agricultural industry. Agricultural machinery that assists with farming and harvesting is becoming increasingly functional and high-quality. TIGER Drylac® powder coatings help our customers maintain the quality and durability of their agricultural machinery for decades. Our Sales Director Helmut Lehner explains why:
Powder coating for agricultural and construction machinery
For agricultural machinery, a strong appearance with typical OEM coloration is just as important as reliable UV and corrosion protection. As the market leader with many years of experience in this field, TIGER offers first-class surface solutions for diverse heavy machinery: from tractors to combine harvesters. We produce customized powder coatings that can be individualized from the color shade to the gloss level. After all, the color is a unique selling point for our customers, and it should be immediately recognizable in the field which brand of agricultural machinery is being used.
TIGER Drylac© powder coatings are available in weather-resistant and highly weather-resistant variations. Both provide stable color brilliance, good edge coverage and reliable corrosion protection. Highly weather-resistant powder coatings also withstand extreme stresses caused by UV radiation. The result: long-lasting surfaces even with decades of use in the field.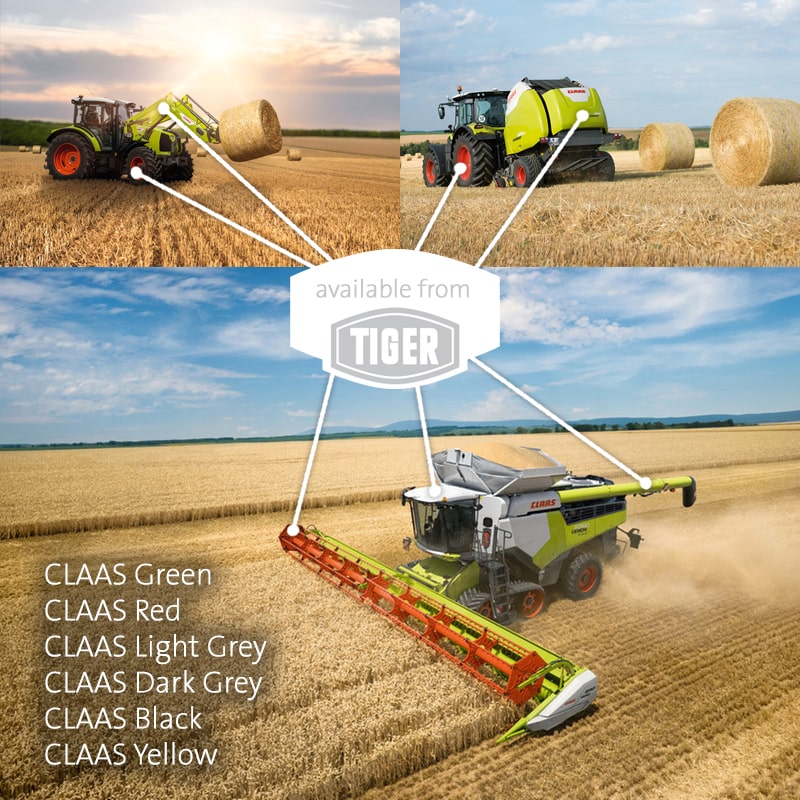 TIGER Drylac® powder coatings for agricultural and construction machinery are ecological and environmentally friendly products that are manufactured completely without the PT910 hardener. Since our powder coatings also contain no solvents, no volatile organic compounds are released into the environment during curing. They are also very economical: that portion of the coating powder that does not end up on the workpiece to be coated during application can simply be reused. This means that almost 100% material utilization is achieved.
In addition, powder coatings from TIGER Drylac® are also available as low-temperature variants. These are more reactive and therefore require less high temperatures and less time in the oven. Here, in addition to valuable energy, some time can also be saved in the production process.
On request, our products are also available with increased abrasion and/or chemical resistance, excellent gloss and flow properties, or as thin-film powder coatings. Contact us now - we are happy to advise you!
The fundamentals of farming
In order to be able to provide the best possible service to our customers in the agricultural industry, TIGER is constantly looking at the areas in which agricultural machinery is used and the related specifications for our surface solutions. Farming is roughly composed of the following steps:
1. Fertilization
One of the most important factors for a successful harvest is a fertile topsoil. Depending on the region, there are different types of soil (e.g. clay soil, gravel soil, humus-rich, light or heavy soil) which have different properties and nutrient contents. The formation of these soils is conditioned by influencing factors such as weather, climate, vegetation and much more.
If the soil lacks nutrients that are important for growing vegetables or cereals, the farmer must support this nutrient supply. To ensure plant growth, manure, slurry, green manure or compost is used to fertilize the soil. With the help of a manure or compost spreader, the farmer applies the selected fertilizer evenly and effectively over a large area.
2. Soil cultivation
In order for the soil to absorb fertilizer optimally and to provide ideal conditions for seedling and seed placement, the soil should be as loose and crumbly as possible. To create these conditions and maintain even planting furrows, the farmer hangs a plow on his tractor and uses it to mix or turn the upper layers of the field. This aerates the soil and undesirable weeds are dug up in the same operation. In a second step, the farmer uses a harrow to break up any clods of soil that may have formed and a loose, fine soil structure is created. This reduces evaporation in the soil and moisture is retained for longer. The field is now ready for sowing.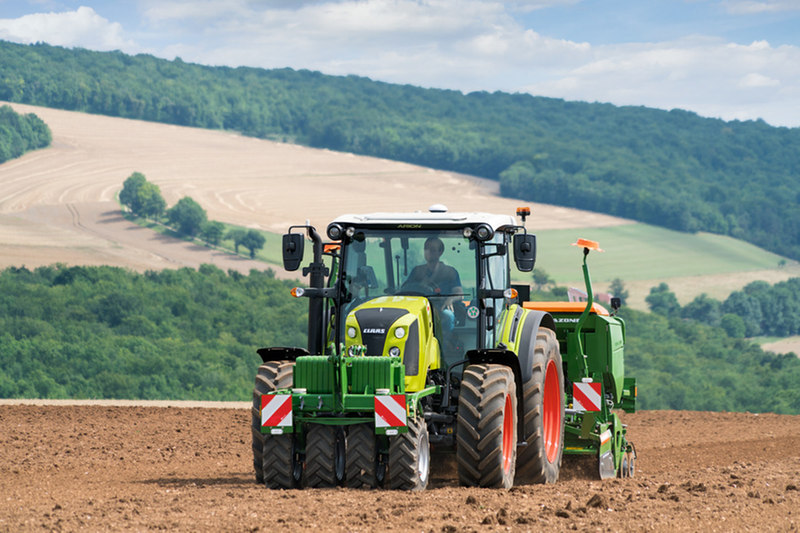 ​​​​​​​3. Sowing & planting
Sowing and planting are done at different times of the year, depending on the type of crop. For example, fruit and vegetable plants are planted using a planter in the spring, while winter cereals are sown in the fall. With the help of a seeder or drill, a large number of grains can be distributed in the furrows at the same time.
After sowing and planting, the first rain washes around the seeds or young plants and embeds them in the soil. Heat and sun provide the necessary energy for growth - so nothing stands in the way of a successful farming season.
Knowing the needs and challenges for surfaces in the agricultural sector makes TIGER the perfect partner for your industry. Find out today about our best solution for your individual requirements.