Work-From-Home Office Furniture
Powder Coating Solutions for Work-From-Home Office Furniture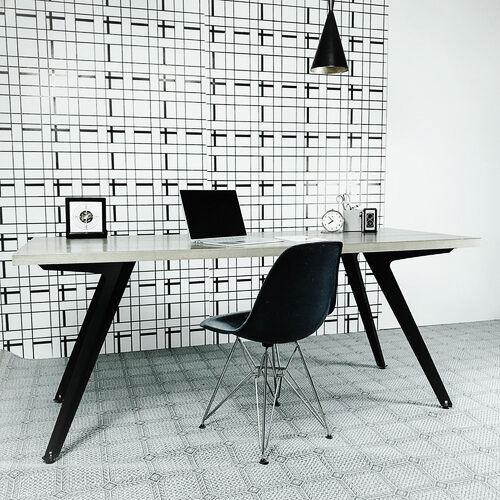 As individuals shift to Work-From-Home (WFH) offices, manufacturers must adapt to new office trends. Typically, home office furniture was designed to be economical, lightweight and light duty. Now WFH offices are engaged full-time (40 hours per week, plus after-hours activity) in homes from coast-to-coast. Desks and chairs must now endure industrial use and the demand for larger desks to accommodate dual monitors and multiple interconnected devices. No matter what space is available, a professional WFH area is required to maximize productivity. Here are a few tips about what the market is looking for to make the most out of WFH office space:
A durable, versatile desk and chair combination
The desk and chair are the most important factors in a good WFH setup. Working at home can mean sitting for long periods, so outfitting home offices with an adjustable sitting-standing desk has become increasingly popular in the office furniture industry.
We recommend using TIGER abrasion resistance (AR) powder coatings for adjustable desk and chair options so that color, texture and physical properties last over the long-term. Abrasion-resistant (AR) surfaces are substantially less prone to drag-marks, reduce dirt and handling-related abrasion and improve scrub resistance!​​​​​​​
Add cabinets or shelves for storage
With the right powder-coated finish, your cabinets will look great and looking like new for years on end. TIGER Super Durable formulas provide unmatched appearance and protection.
Keep it clean!
WFH surfaces are subjected to a much higher degree of chemical cleaners than in the past. Powder coatings perform with a high degree of chemical resistance to withstand repeated exposure to harsh cleaners and chemicals over time.
TIGER powder coatings will continue to look great even with increased frequency of abrasion from cleaning
Endless Color Selection
TIGER has an endless amount of colors and textures to choose from to ensure your office furniture is on-trend and protected!
In the end, more people are Working-From-Home and manufacturers must adjust to meet this market trend with quality products that offer long-lasting value.
Brad Hawes
National Sales Manager - USA
TIGER Drylac USA