TIGER Drylac® Dormant Powder Coatings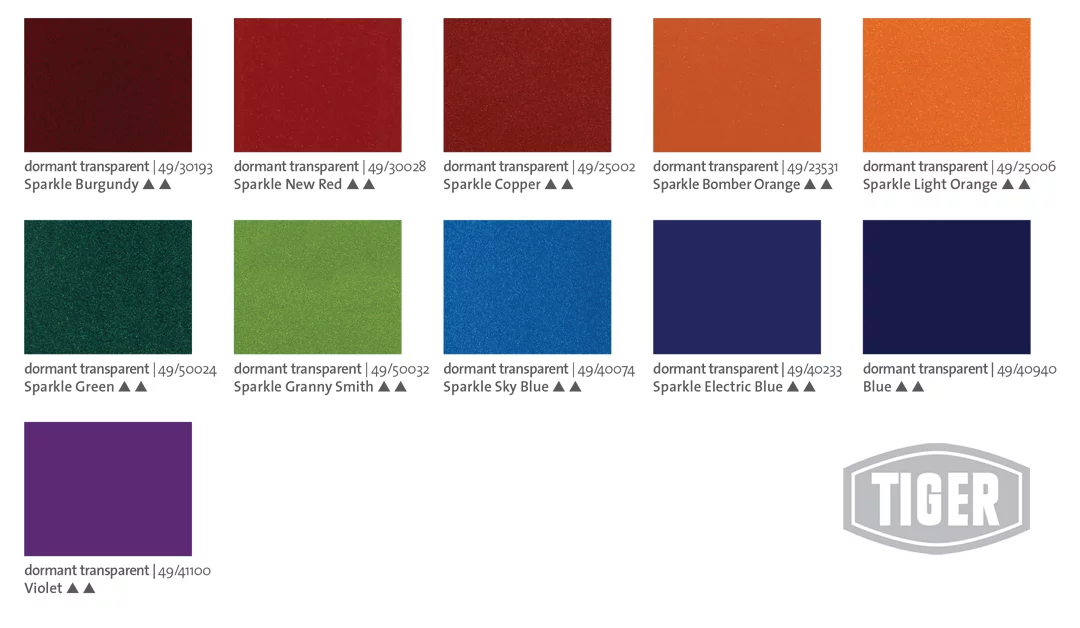 Are you looking for a surface finish solution that POPS! Want something colorful? Look no further TIGERS Series 49 Dormant Transparent Effect powder coatings are the solution for you! Our polyester TGIC powder coatings have exclusive brilliant deep metallic effect that is sure to make a statement. The two-coat system is achieved using a TIGER Drylac® Dormant Transparent base coat and a TIGER Drylac® Clear top coat. See our lineup of Dormant colors below:
Blue 49/40940
Sparkle Sky Blue 49/40074
Sparkle Electric Blue 49/40233
Violet 49/41100
Sparkle New Red 49/30028
Sparkle Burgundy 49/30193
Sparkle Copper 49/25002
Sparkle Bomber Orange 49/23531
Sparkle Light Orange 49/25006
Sparkle Granny Smith 49/50032
Sparkle Green 49/50024
Once a dormant color is selected, the clear coat then brings the finish to life with a glossy transparent aesthetic. For best results during the two-coat application, it is recommended to partially cure the base coat and then apply the required clear top coat. An insufficient cure of the Dormant Transparent base coat can result in a 'crackled' appearance of the metallic effect. Vice versa, excessive curing of the base coat can cause intercoat adhesion problems. For proper spraying of the clear topcoat, it is necessary to ensure good ground of the coated substrate. Durability and chemical resistance can only be obtained by using the complete two-coat system.
Dormant powder coatings have good mechanical properties, smooth flow, high transparency effect and no special metal preparation required to achieve transparency. Ideal for applications including sporting goods, bicycle equipment, snowmobiles and surfaces not exposed permanently to UV-light! So, what are you waiting for… try TIGER Drylac® dormant powder coatings today!