Textured Powder Coatings in Architectural Applications
An upgraded look and feel for your project!
Powder coatings are primarily smooth finishes, with a wide range of colors and gloss levels available for the consumer. In addition to smooth surfaces powder coatings are also available in a variety of textures as well. Textured finishes​​​​​​​ range from, fine texutres, rough textures, wrinkles, hammertones, and antique veins delivering a unique appearance and a tactile response to the touch.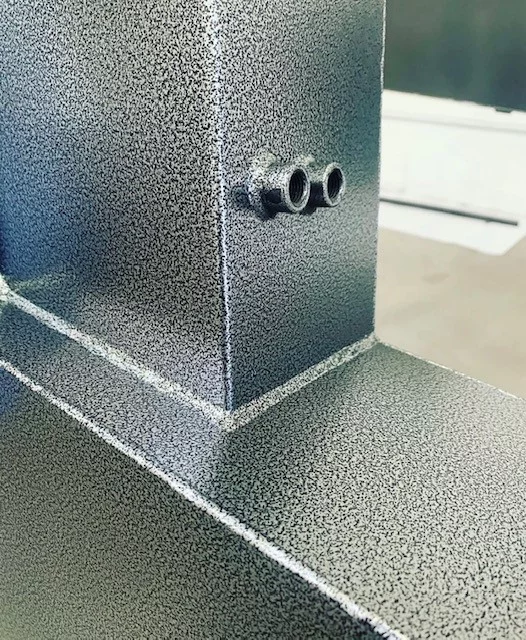 There are additional advantages to textured finishes, primarily the ability to mask surface imperfections on the substrate. A good example where this may be required is where machining and grinding marks are left behind during metal forming. The application of textured finishes allows the coating to effectively mask small imperfections due to the lack of a smooth surface finish, which tends to highlight the problem.
It is important to note that these textured finishes need to be applied according to the recommended film thickness to assure proper coverage. Textured finishes are commonly applied at heavier film builds as film gauges will read from the peak of the texture to the substrate, leaving a thinner layer at the low point of the texture. Applicators need to ensure the coating is thick enough at the low point of the coating thickness to properly protect the substrate below. The safest method is to apply a primer basecoat prior to applying a textured finish to ensure that the substrate is sealed away from any moisture which could cause corrosion.
Note: do not use a primer of any kind underneath a wrinkle finish, or the wrinkle effect will be lost.
For exterior applications, textures are offered in Super Durable formulations or as Clear topcoats​​​​​​​. A variey of textured clear powder coatings are avaialble to add texutre to any standard powder coating color. A test sample should be prepared prior to completing the project to assure the final color meets expectations.
Be certain to select a textured clear with the same performance level as the basecoat - it is important they match.
Note: the application of a Super Durable topcoat will not significantly improve the color retention of the basecoat (without specific enhancement to the chemical formulation), nor will it make an interior rated powder coating suitable for exterior application.
John Fett
Architectural Products Manager
TIGER Drylac, North America