TIGER Drylac Automotive Trim Powder Coatings
The TIGER Drylac® Trim Line was engineered to meet or exceed the color and gloss retention requirements of AAMA 2604 (5 years of exterior south Florida weathering). We deliver a brilliant surface finish that hits the target for gloss, texture and special effects. Our coatings can be customized to fit your specific needs. These premium class coating systems are the right solution for components in the automotive industry, including cargo shades, cassette covers and luggage compartments.
Special, precisely defined qualities can be given to all coating surfaces, even castings. Premium class powder coatings, with their unsurpassed resistance to light and weathering, are implemented on external and internal components with a form and function that boosts the image perception of the entire vehicle: from wing mirrors to roof racks to spoilers to B pillars. Virtually all colors and gloss grades in the premium class can be set to meet the precise specifications of the automobile industry, see our Automotive Trim product line below: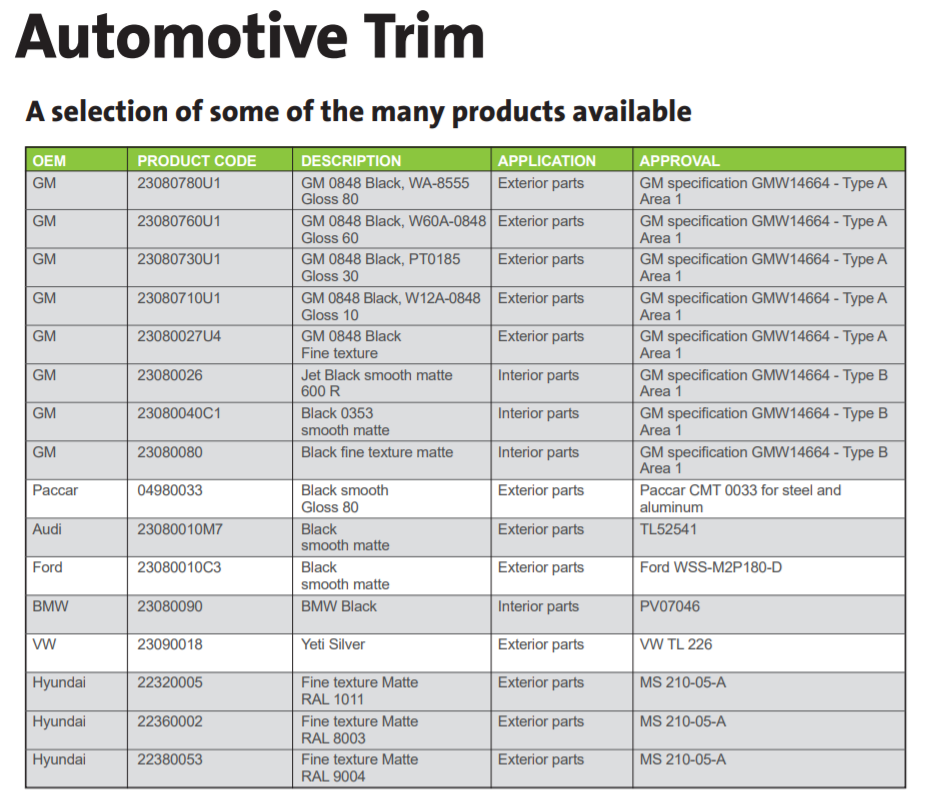 Endurance-tested applications in climate zones with exceptional exposure to the sun's rays over an extended period of 5 years or more in southern Florida formed the basis for development of this line of powder coatings! At TIGER we always have a list of automotive industry approvals available on demand.